Located in the scenic Yorkshire Dales National Park, The Forbidden Corner is a great day out for all ages.
The Forbidden Corner is a unique garden filled with tunnels, chambers, follies and surprises to keep you entertained all day. The four acre garden is in the heart of Tupgill Park in North Yorkshire and originally started as a private garden for Mr C.R.Armstrong CMG O.B.E before he opened to the public after lots of interest from friends and folly fans.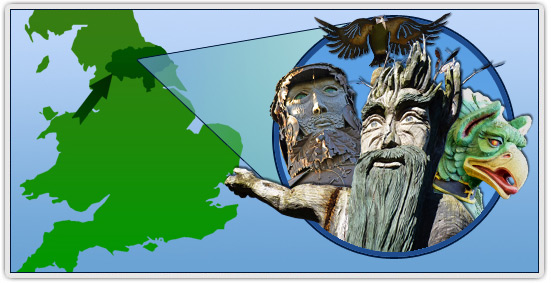 North
Yorkshire
Inside the stone walls lies statues and interesting features that starts at the main entrance, a tower with a giant mouth, you have to pass through the giant teeth before you can see the wonders inside. Wonders that include a giant woodsman, unusual sculptures and talking mice. You even get a paved area to enjoy the fantastic views that are associated with Yorkshire as you look down the Coverdale valley.
With the gardens and tunnels, plus the gift shop and the Corner Cafe, The Forbidden Corner is a brilliant day out in Yorkshire and the Yorkshire Dales. We have enjoyed many years of some fantastic feedback, see out testimonials page or check out the review page on Trip Adviser.
Come and visit us in Yorkshire.
The Forbidden Corner is located in the eastern side of the Yorkshire Dales in the centre of Yorkshire, near the lovely towns of Leyburn and Middleham. Getting here is very easy and we are well sign posted. If you use a satnav then use the postcode DL8 4TQ. You need to book in advance so visit our Booking page or call the number at the top of the page.
We hope to see you soon.