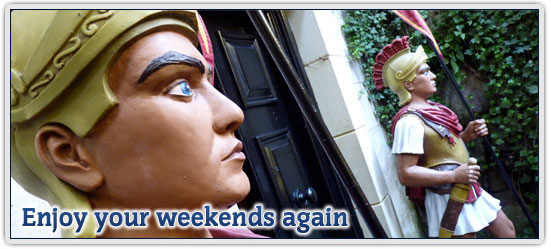 Give your family, friends and yourself a break from the boring working week at The Forbidden Corner.
From November, we are entering our winter season and will only be open on Sundays from 10am until 3pm in November and 10am until 2pm in December. Although we are only open for one day a week, you will still have an amazing time exploring the gardens, tunnels and hidden areas making The Forbidden Corner a perfect weekend day out.
Sculptures and Interesting Characters.

Lurking around the gardens are sculptures of varying sizes, such as the Armstrong statue and glass pyramid. There are also interesting characters for you to meet, such as the sleepy giant, the floating griffin and our giant woodsman. You will also be greeted by our tree giant who will point you in the direction of adventure.
Tunnels and Underground Caverns.

As well as the maze of passages and paths around our gardens and wooded area, things get even stranger when you go underground and start exploring the labyrinth of tunnels beneath The Forbidden Corners grounds. You will find giant mice and if you are lucky (or unlucky if you listen to the mice) you may even find a giant feline. There are many ways to get lost, confused and scared when you go down our tunnels.
Corner Cafe and Gift Shop.

To enjoy the whole of your weekend day out, we have our own Corner Cafe that can provide a wide variety of foods, from our own Devil Burger to jacket potatoes with a choice of fillings. We also have plenty of cold and hot drinks to quench your thirst. If you feel like treating yourself, there is also a yummy selection of cakes and pastries.
Still not convinced?
If you still are umming and arring about whether The Forbidden Corner will be the best weekend day out for you, have a look at our reviews on Trip Advisor, where over 87% of people rate us Very Good or Excellent. Just click the link to the left to read how others enjoyed their day out at the strangest place in the world.
Bring your family for a day out in Yorkshire.
The Forbidden Corner is located in the eastern side of the Yorkshire Dales in the centre of Yorkshire, near the lovely towns of Leyburn and Middleham. Getting here is very easy and we are well sign posted. If you use a satnav then use the postcode DL8 4TQ. You need to book in advance so visit our Booking page or call the number at the top of the page.
We hope to see you soon.