Discover!
Find out more about the garden and our many attractions.
The History
Ever wanted to know how The Forbidden Corner came to be?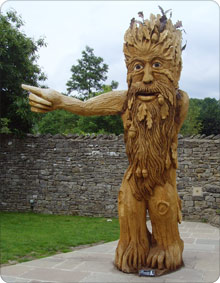 The Forbidden Corner is a unique labyrinth of tunnels, chambers, follies and surprises  created within a four acre garden in the heart of Tupgill Park and the Yorkshire Dales. The temple of the underworld, the eye of the needle, a huge pyramid made of translucent glass, paths and passages that lead nowhere, extraordinary statues - at every turn there are decisions to make and tricks to avoid. This is a day out with a difference which will challenge and delight adults and children of all ages. Enjoy a day out in Yorkshire at The Forbidden Corner.
The brainchild of Mr C.R.Armstrong CMG O.B.E, the Forbidden Corner was originally built as a private folly but due to public demand was subsequently opened to the public. A great family day out.
The Forbidden corner makes a great weekend day out for all of the family.