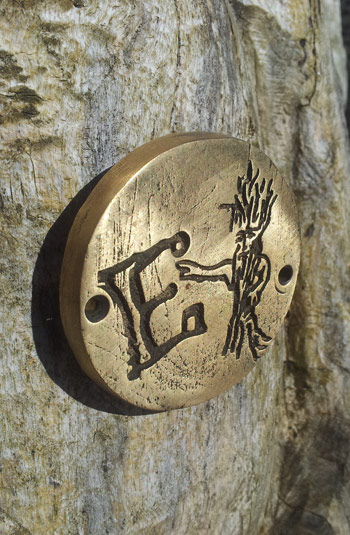 The Quest – Scattered around The Forbidden Corner are 15 brass coins, a new feature available from 22nd April 2013.
It is said that one day many years ago the Grand Wizard visited his folly of delights and scattered around The Forbidden Corner 15 brass coins for the most curious of guests. Your Quest is to find them all.
Each coin contains a letter, you will have to explore our gardens and folly to discover every coin and take a brass rubbing of each. The Quest is to find all 15 coins which will spell out the name of a well known tourist attraction.

Only the bravest of our visitors will be able to find each of the brass coins hidden around The Forbidden Corner. When you visit us, you will be given some parchment to assist you in collecting all of the brass rubbings. Once you have found all of the coins, you can redeem your parchment for a special sticker at our reception. Also each completed Quest will be entered into a monthly prize draw.
The brass coins are positioned all around our grounds and it will become a real adventure and Quest to find each and every one. Some will be easy to spot whilst others will require a bit of cunning. You could always ask a staff member if you get really stuck.