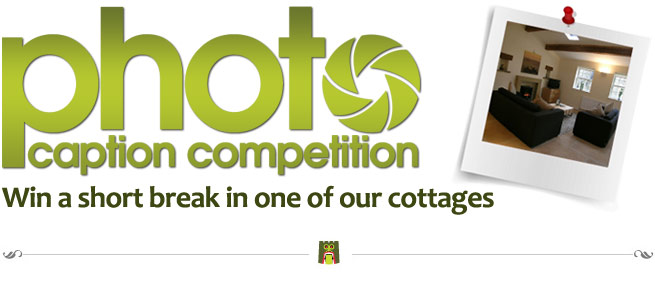 Please Note: The deadline for entries has now passed. We will soon be adding the captions and photos to Facebook for you to vote on your favourite.
Win a Complimentary short break in one of our cottages here at The Forbidden Corner.
Calling all photographers, whether you are an expert or someone who gets the odd snap with their phone. We have a photo caption competition that anyone can enter. All you need to do is get a photograph that has been taken at The Forbidden Corner and come up with an amusing caption.
The photo can be of any part of The Forbidden Corner, including the picnic area and the lake. The caption has to make us smile, laugh or smirk.
All entries will be judged by us anonymously at The Forbidden Corner with our favourite 10 images and captions going through to be judged by the public on our Facebook page. The photograph and caption that gets the most Likes by the deadline will be the winner.
The winning photograph wins a short break stay in one of the cottages on Tupgill Park, right next door to The Forbidden Corner. The winner can stay at one of our cottages with up to 6 friends or family members (depending on what cottages are available on your desired holiday dates). Your party will also each get a free ticket to spend the day in The Forbidden Corner attraction.
How to enter.
To enter the competition, you need to email your Forbidden Corner photograph to the email address below providing us with your full name, address, phone number, email address as well as the all important caption (just include it in the email, you don't need to photoshop it onto your photo). Please read the Terms & Conditions below before entering the competition.
Don't forget, be creative with your photograph and think out of the box. To make sure your photo stands out try to avoid the regular features and come up with something that you think is great, unique and possibly very funny.
Entries are now closed!
Terms and Conditions.
The competition will run from it's launch (July 2013) to midnight on the 31st August 2013. Any entries made after this time will not be included in the competition.

Only one entry per person is permitted. You have to have taken the photo yourself.

It must be a photo taken within The Forbidden Corner but can include picnic areas and the lake also general area within the grounds of the Forbidden Corner.

Judging will take place at the start of September with the Top 10 Finalists being added to The Forbidden Corner's Facebook Page shortly afterwards. The winner will then be decided on photo Likes midday on the 12th September 2013.

By entering the competition you are agreeing that The Forbidden Corner has the right to use the photograph in the future.

Any photographs or captions deemed offensive or racist will not be included in the competition.

The complimentary short break is 3 nights at the one of the cottages. If you require extra nights then you will be charged at the usual rates.

The complimentary stay is for low season only between September 2013 and April 2014. The winner will need to contact Johnny Reeves or Wendy Reeves (Estate Managers) to book their stay.

The accommodation comprises of minimum 1 x Double bedded room and 1 x Twin/Bunk bed room in whichever cottage is available at the time of booking. The Party must not exceed the maximum stated occupancy for the cottage. Please see the Tupgill Park website for the maximum occupancy for each cottage.

We will endeavour to meet your requirements at the time of booking with what we reasonably have available.

The prize is not transferable and can not be exchanged for money.

By entering the competition you are allowing The Forbidden Corner to contact you about competition updates and further competition that we may run. You can unsubscribe at any time by clicking the link in the bottom of any future emails. We will never give your email address to third party companies.

Any questions about this competition can be made by using the following contact details.
The Forbidden Corner
Tupgill Park Estate,
Middleham,
Leyburn,
North Yorkshire.
DL8 4TJ
01969 640638