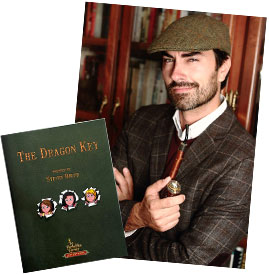 After an initial launch of the first ebook in The Forbidden Corner Adventures series, 'The Dragon Key', on iTunes and then Google Play for mobile and tablets, we are proud to announce that the book is now available as a paperback book in our Gift Shop.
To celebrate the launch, the author and creator of the series, Steven Bruns will be visiting The Forbidden Corner to meet fans of the book as well as signing books to commemorate the release of 'The Dragon Key'.

The Dragon Key Book Signing.
Steven Bruns will be appearing on the following days, signing books and chatting with fans of the books between 2pm and 4pm on each of the days.
Friday 2nd August 2013
Saturday 3rd August 2013
Sunday 4th August 2013
Tuesday 6th August 2013
Wednesday 7th August 2013