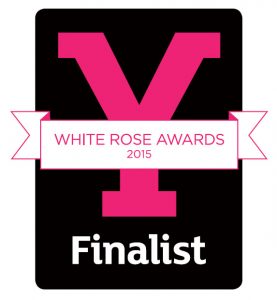 We've been nominated!
We are absolutely delighted to announce that we are a finalist in the White Rose Awards, for the large visitor attraction sector. Congratulations to all others that have been shortlisted
About the White Rose Awards
The Welcome to Yorkshire White Rose Awards is the largest celebration of tourism excellence in the UK. Our awards recognise and reward the very best of the industry throughout Yorkshire. The awards recognise a wide range of achievement in tourism provision, such as best large and small hotels, pubs, restaurants, camping and caravan sites and cultural events. Awards applications open in early spring and winners are announced at the awards ceremony which typically takes place in October or November each year.
We are proud of our rigorous and independent judging process. The independent WRA 2015 judging panel is chaired by Colin Mellors, Pro-Vice Chancellor of York University and also includes Elaine Lemm, Food Writer, Nicola Furbisher, Yorkshire Post Managing Editor and customer experience expert Mark Bradley. The panel meet to draw up a short list for each of the categories. This is followed by 6 weeks of mystery shopping undertaken by specialist companies. Finally, the judging panel spends a challenging day deciding winners.
Find out more at : http://wra.yorkshire.com/finalists